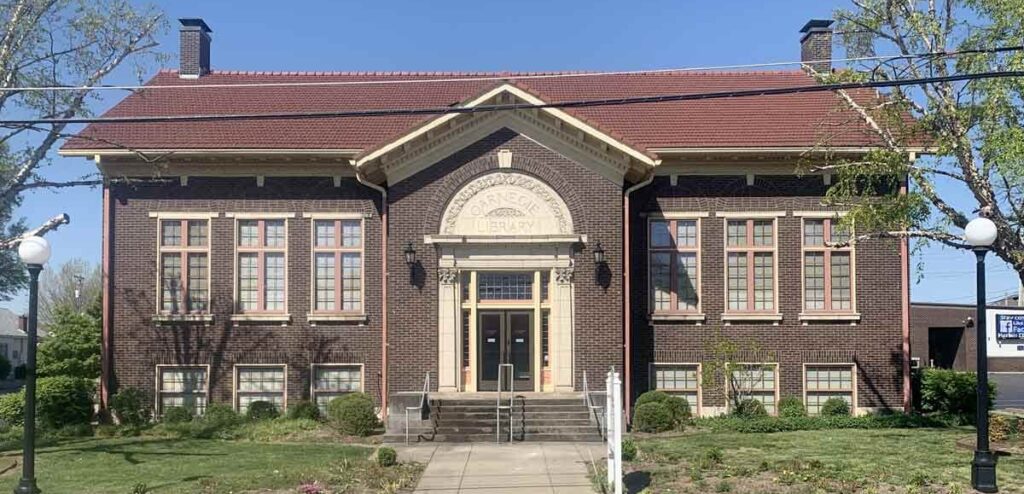 Marion Carnegie Library stands on the site of the former "Grandma Cline" residence. This property was acquired in 1914 for the sum of $5,003.17 from Sarelda Cline and her heirs. The building was constructed in 1915, with a grant of $18,000 from the Andrew Carnegie Foundation. Clifford Shopbell of Evansville, IN, designed the building, which was constructed by Robert Sparks of Marion. It was opened to the public on February 29, 1916 with 1,162 volumes and 680 borrowers. Marie Williams Roberts was the first librarian. Mark Woodley was the first president of the board of trustees. The original building faces Market Street, just south of the Tower Square in Marion. The library is located in the direct center of Williamson County and is a department of the City of Marion.
Over the years, the building has undergone several renovations. In 1997, a major expansion added 12,000 square feet to the existing library facility. In 2009, the Young Adult Department was created on the second floor. This project was funded through a Live and Learn Construction grant, which was awarded by the Illinois State Library. Currently, Marion Carnegie Library has three departments each located on different floors. The Children's Department, located in the Basement, caters to early readers, school-aged children and their families. The young Adult Department serves tweens and teens, ages 12 to 19, and is located on the second floor of the library. The main floor is a commonplace for the community and houses the adult collections. The library also offers public meeting spaces, study rooms, printing and faxing services, access to electronic resources, Wi-Fi, and public computers. Marion Carnegie Library is dedicated to fulfilling community educational, information, cultural and recreational needs in a relevant and timely manner.
Today, you will find Marion Carnegie Library cards are usable at more than 520 public libraries in the Illinois Heartland Library System. Our collection now exceeds 118,000 items. Materials available for check-out include books, magazines, DVDs, audiobooks, educational kits and digital content. If our library does not have access to an item, we will request it from other libraries in our system.  Please visit our website for more detailed information.
618.993.5935 | 206 S. Market, Marion, Illinois 62959 | director@marioncarnegielibrary.org