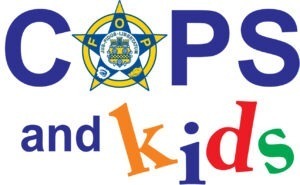 The Williamson County Fraternal Order Of Police Lodge #197 holds its annual Cops and Kids program every December.  It is the lodge's goal to sponsor 100 plus children from Williamson County, Illinois every year.
The program is meant to give underprivileged children in Williamson County, Illinois the chance to have a Christmas they may not get otherwise.  Members of the lodge take the children to both the Marion and Herrin Walmart giving the children a chance to shop with a local law enforcement officer for their special Christmas gifts.  This allows law enforcement to interact with the children and their families or guardians showing them that law enforcement is there to help them when needed.
Children have approximately one hundred dollars to spend.  It is encouraged to purchase necessities first such as, coats, hats, clothing, etc., then they can choose on to those fun items they enjoy.
If you would like information on donating please feel free to contact the Williamson County FOP #197 by EMAIL or visit their website by clicking HERE.
2022 applications will be available in November.
The Marion Police Department is proud to be apart of such a great program and thank the Williamson County Fraternal Order of Police Lodge #197 for all the hard work and effort they put into this program.